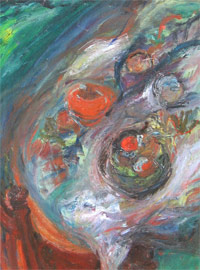 About myself
My adult life started with a career as an Occupational Therapist. This inevitably required the development of creativity, working with disabled patients. After mothering years and studies in art at UNISA, my life evolved into becoming a full-time artist.
My inspiration comes from my immediate surroundings, my memories and things that I feel passionate about. My emotional and sensorial experiences however influence the colours on my palette and brushstrokes I use. My paintings are created without pre-conceived agendas, thus the end product is usually an unexpected experience.
I would like to think that the images that appear in my work, convey an emotional expression rather than a realistic reproduction of what I see. It is therefore obvious that my paintings are once-offs and cannot be repeated or commissioned. My creations are not the result of a cognitive process, but comes from my soul.